Dr. Debra  is now a member of the International Hedgehog Association!
"The IHA is a registered charitable non-profit organization established with the purpose of educating the public in the care and betterment of hedgehogs and to facilitate the rescue, welfare, promotion and care of hedgehogs everywhere.
The International Hedgehog Registry is now a part of the IHA.  We encourage Owners to register their Hedgehogs to help us better track health trends and hereditary traits.  It is our hope that over time this will aid breeders in improving the quality of the species, and provide owners and breeders with lineage information.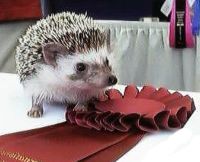 The IHA is active in the promotion of hedgehog shows and educational seminars as a means of bringing together and educating hedgehog lovers and fanciers.  The IHA sanctions shows across the United States and Canada every year, bringing hedgehogs and fanciers together in a friendly spirit of competition and friendship
We encourage and support rescue through our rescue licensing program, ensuring quality care and placement of rescues throughout North America and Europe.  As well, IHA sponsored funding campaigns help to keep hedgehog rescues running.

The IHA's research activities have included studies on diet, nutrition and appropriate medication."